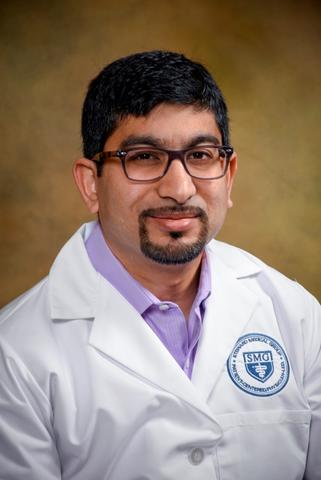 Northside Regional Medical Center and Steward Medical Group are pleased to welcome Sabeeh A. Siddiqui, MD to the cardiology staff.  The addition of Dr. Siddiqui means patients will have enhanced access to high-quality cardiology care in the community.
Dr. Siddiqui specializes in interventional cardiology, including high risk coronary interventions; particularly coronary Chronic Total Occlusion [CTO] (a block in the arteries lasting more than three months) and Critical Limb Ischemia (severe blockage in the arteries which reduces blood flow to the extremities) that can markedly improve a patient's quality of life and help prevent limb amputation.
He also has expertise in Left Ventricular Assist Device (LVAD), a mechanical heart pump that pumps blood throughout the body. This is typically used when someone experiences heart failure either before or after open heart surgery.
Dr. Siddiqui comes to Northside Regional from Southfield, Michigan, where he was a staff cardiologist at Detroit Cardiovascular. He completed his residency and fellowship from Wayne State University, Detroit Medical Center. Dr. Siddiqui is board certified in internal medicine, cardiovascular disease, interventional cardiology, adult comprehensive echocardiography, cardiovascular computer tomography and nuclear cardiology (CBNC).  He is also a member of the American College of Physicians, American Medical Association, and American College of Cardiology and the American Heart Association.
"I was particularly drawn to the Valley because of the opportunity here to treat patients. Steward (Health Care) has a great vision of where it wants to take healthcare and I'm excited to help build the cardiology program. My aim is to help Steward become a premier provider in the area," Dr. Siddiqui said.
While he is proud of his accomplishments, patient satisfaction is what fulfills him the most. "I have the opportunity to help people every day. To be able to positively impact someone's life is extremely rewarding.  It's why I chose to be a physician," he said.
Dr. Siddiqui is accepting new patients. His practice in the cardiology office at Northside Regional Medical Center is located at 500 Gypsy Lane in Youngstown, Medical Office Building B on the first floor. To make an appointment with Dr. Siddiqui, call 330-884-5790.
Dr. Siddiqui will also practice at Steward Medical Group Sharon Cardiology in nearby Hermitage, Pennsylvania. To schedule an appointment at this office, located at 2999 Innovation Way, Hermitage, please call 724-983-1800.
About Steward Health Care - Northside, Sharon, Trumbull, and Hillside.
Steward is a fully integrated national health care service organization that is committed to providing the highest quality of care in the community where our patients live. Northside Regional Medical Center in Youngstown, OH, Sharon Regional Medical Center, in Sharon PA, and Trumbull Regional Medical Center in Warren, OH, are full service hospitals offering a broad spectrum of inpatient, surgical, diagnostic and outpatient services. Hillside Rehabilitation Hospital is a distinguished acute rehabilitation hospital located in Warren that provides multifaceted inpatient and outpatient rehabilitation services.  This network of hospitals also operates several affiliated outpatient facilities throughout the Mahoning and Shenango Valleys including surgical services, urgent care, walk-in clinic, diagnostic, sports medicine, lab and occupational health. Together we provide care for hundreds of thousands of patients every year. To learn more visit www.Steward.org.
About Steward Health Care System
Steward Health Care, the largest private, for-profit hospital operator in the United States, is a physician-led health care services organization committed to providing the highest quality of care in the communities where patients live. Headquartered in Boston, Massachusetts, Steward operates 38 community hospitals in the United States and the country of Malta, that regularly receive top awards for quality and safety. The company employs approximately 40,000 health care professionals. The Steward network includes more than 25 urgent care centers, 42 preferred skilled nursing facilities, substantial behavioral health services, over 7,300 beds under management, and approximately 1.5 million full risk covered lives through the company's managed care and health insurance services. The total number of paneled lives within Steward's integrated care network is projected to reach 3 million in 2018.
Steward's unique health care service delivery model leverages technology, innovation, and care coordination to keep patients healthier. With a culture that prioritizes agility, resourcefulness, and continuous improvement, Steward is recognized as one of the world's leading accountable care organizations. The Steward Health Care Network includes thousands of physicians who help to provide more than 12 million patient encounters per year. Steward Medical Group, the company's employed physician group, provides more than 4 million patient encounters per year. The Steward Hospital Group operates hospitals in Malta and states across the U.S. including Arizona, Arkansas, Florida, Louisiana, Massachusetts, Ohio, Pennsylvania, Texas, and Utah.